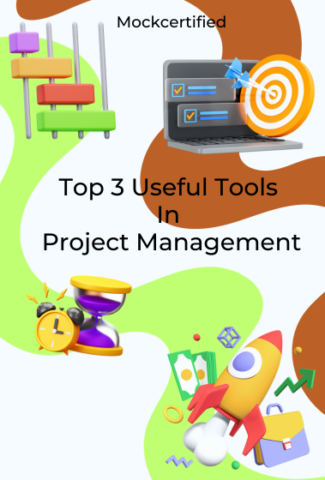 Table of Contents
Introduction to Tools in Project Management
When it comes to project management, we find wisdom in these words:
"Efficiency is doing things right; effectiveness is doing the right things."

– Peter Drucker.
To succeed in this dynamic field, you need more than just strategies; you need the right tools in your arsenal.
We're about to unveil the three key tools that will transform your project management game from good to exceptional.
And also, did you know you can become a project manager with no experience as well? Click here to find out!
Tools in project management shouldn't be just about charts and data, it is always more than that. You will get what we're talking about as you further read.
Asana
Asana is a prominent company in the project management software industry.
Customers and users from various organizations and industries are involved in utilizing Asana's services.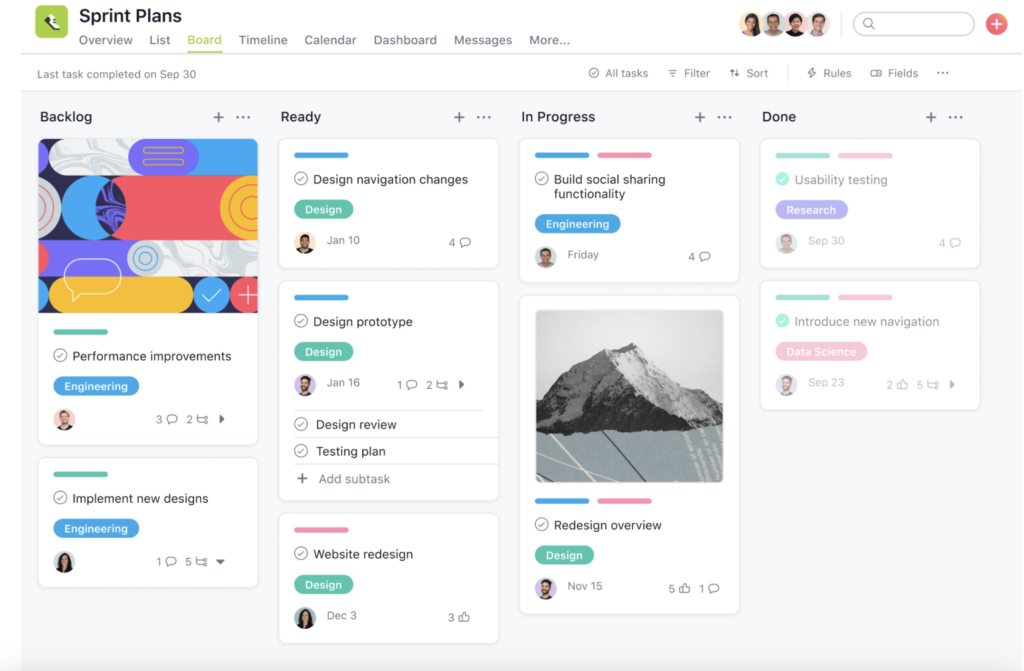 Asana's development and updates are ongoing, with new features and integrations regularly added.
Asana can reduce communication gaps, improve accountability, and enhance team coordination.
Asana Use cases
Marketing and Creative Teams

Asana helps marketing and creative teams plan campaigns, manage content, and track progress efficiently.

Product and Engineering

Asana facilitates collaboration between product and engineering teams for smoother development and product launches.

Operations and IT

Asana can be used in operations and IT to streamline workflows, manage tasks, and track projects.

Sales

Sales teams can utilize Asana to manage leads, track customer interactions, and improve sales processes.

HR and People Teams

Asana aids HR and People teams in managing hiring, onboarding, and employee-related tasks.

Event Planning

Asana supports event planners in organizing events, coordinating tasks, and ensuring everything runs smoothly.

Customer Support

Customer support teams can use Asana to track and resolve customer inquiries and issues efficiently.

Content Production

Asana is valuable for content production teams to plan, create, and publish content effectively.

Agencies and Creative Services

Agencies and creative service providers can benefit from Asana for project management and client collaboration.

Nonprofits and Community Groups

Asana can be employed by nonprofits and community groups to manage projects and initiatives.
Asana Features
Task Management:

Robust task management capabilities, including task creation, assignment, and tracking.

Project Planning:

Tools for planning and organizing projects, including timelines and dependencies.

Workspaces and Teams:

Workspaces and team structures to facilitate collaboration and organization.

Calendar View:

Calendar view for visualizing tasks and project deadlines.

Custom Fields:

Customizable fields to capture specific project details.

Forms:

Forms for streamlined task and project intake.

Portfolios:

Portfolio feature for tracking progress across multiple projects.

Automation:

Automation capabilities to eliminate repetitive tasks.

Integrations:

Integration with third-party apps and tools.

Reporting and Dashboards:

Reporting and dashboard features for project performance tracking.

Mobile Apps:

Mobile apps for iOS and Android for on-the-go productivity.

Security and Compliance:

Prioritization of security and compliance standards.

Collaboration Features:

Collaboration features like commenting, file attachments, and task discussions.

Guest Access:

Option to grant guest access for external collaborators.
Pricing
Free Plan:

Basic task and project management.
Suitable for individuals and small teams.
Price: Free for up to 15 team members.

Premium Plan:

Advanced features including custom fields, forms, and task dependencies.
Ideal for growing teams.
Price: Starts at $13.49 per user per month.

Business Plan:

Advanced project management and collaboration features.
Suitable for larger teams and organizations.
Price: Starts at $30.49 per user per month.
Wrike
Wrike is a project management software company. They developed a software which integrates automation streamlines project workflows.
It provides analytics that help in data-driven decision-making.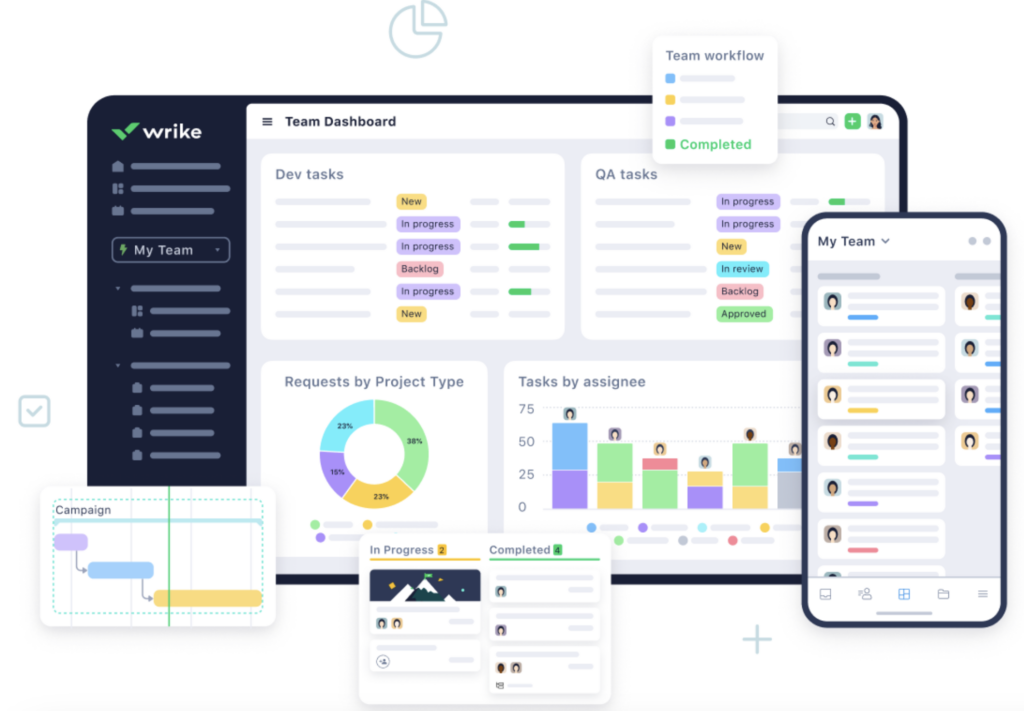 Wrike has over 20,000 customers worldwide and is used by companies like Airbnb, T-Mobile, and Google.
They also offer a range of plans, including a free version.
But many have complained that it is not user-friendly especially for beginners.
Wrike Use Cases
Project Management: Wrike is used for effective project planning, task assignment, and tracking progress.
Marketing Teams: Wrike aids marketing teams in campaign management, content creation, and marketing project tracking.
Product Development: It assists in product development by managing product roadmaps, timelines, and cross-functional collaboration.
Professional Services: Wrike helps professional services firms manage client projects, time tracking, and resource allocation.
Creative Teams: Creative teams benefit from Wrike for managing design projects, reviews, and creative asset storage.
Remote Work: The platform supports remote work with features for virtual collaboration and project management.
IT Teams: IT teams use Wrike for managing IT projects, tickets, and software development.
HR and Recruitment: It streamlines HR processes such as recruitment, onboarding, and employee performance management.
Finance and Operations: Wrike assists in financial planning, budget tracking, and operational project management.
Cross-Functional Teams: It facilitates collaboration among cross-functional teams working on various projects.
Wrike Features
Task Management: Wrike offers robust task management capabilities for organizing and prioritizing tasks efficiently.
Project Planning: Users can create detailed project plans, set milestones, and establish timelines.
Collaboration Tools: The platform provides collaboration features like comments, @mentions, and document sharing.
Time Tracking: Wrike allows users to track time spent on tasks and projects, aiding in productivity analysis.
Gantt Charts: Gantt charts help visualize project timelines and dependencies.
Resource Management: Users can allocate resources effectively and monitor workloads.
Automation: Wrike offers automation for repetitive tasks, reducing manual work.
Reporting and Analytics: It provides reporting tools for project and team performance analysis.
Integrations: Wrike integrates with various apps and tools, enhancing workflow flexibility.
Mobile Accessibility: Users can access Wrike on mobile devices for on-the-go management.
Security: The platform prioritizes data security with role-based permissions and encryption.
Custom Workflows: Customizable workflows adapt to specific business needs.
Templates: Pre-built templates expedite project setup and management.
File Management: Users can store and manage project-related files within Wrike.
Time Off Tracking: It offers tools for tracking employee time off and vacations.
Request Forms: Users can create custom request forms to streamline project intake.
Email Integration: Wrike can be integrated with email for seamless communication.
Pricing
Free Plan:

Basic project management and task tracking.
Suitable for small teams.
Price: Free for up to 5 users.

Professional Plan:

Comprehensive project management and collaboration features.
Ideal for growing teams and businesses.
Price: Starting at $9.80 per user per month.

Business Plan:

Advanced features including automation and reporting.
Suitable for larger teams and organizations.
Price: Starting at $24.80 per user per month.

Enterprise Plan:

Customizable solution with advanced security and support.
Designed for larger enterprises with specific needs.
Pricing available upon request.
Teamwork
Teamwork is a project management and collaboration software platform.
It aims to highlight the features and benefits of the software for businesses and teams.
Businesses and teams that use Teamwork for project management and collaboration.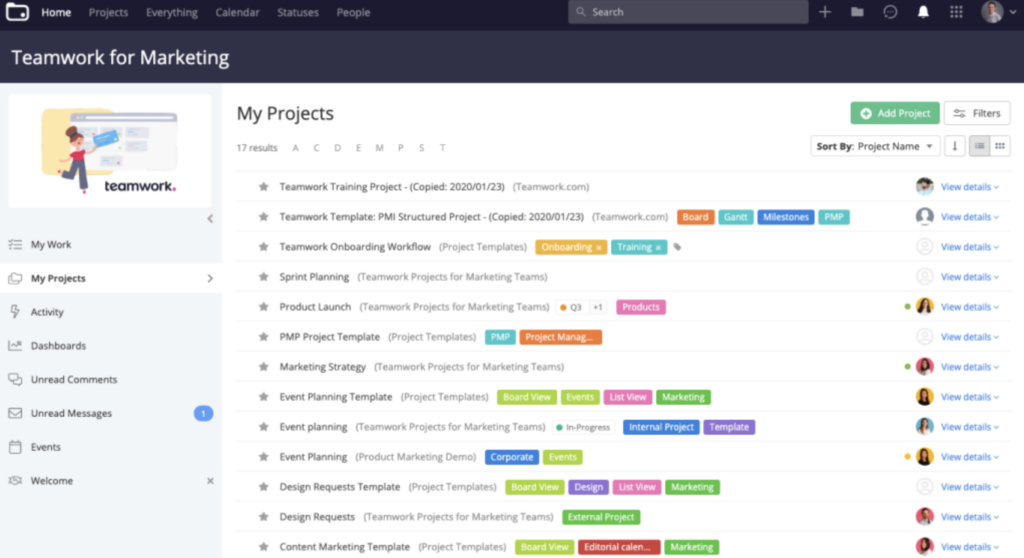 Teamwork's software helps businesses streamline project management, leading to increased efficiency.
Collaboration tools in the software foster better teamwork and communication among team members. They have over 20,000 companies using Teamwork.
Teamwork Use cases
Client Management Software
Teamwork's software offers comprehensive client management with contact, task, and reporting tools.
Boost productivity and gain insights with Teamwork's client management software.
Project Planning Software
Teamwork's project planning software provides robust tools for efficient project management, including task scheduling and resource allocation.
Businesses can streamline project processes, enhancing collaboration and achieving better project outcomes.
Project Management CRM Software
Teamwork's software brings project and client management together seamlessly, integrating smoothly with Teamwork and third-party apps.
It empowers your business to streamline project execution and improve client interactions, making it a valuable asset for your project and client management needs.
Resource Management Software
Teamwork's resource management software offers effective tools for optimizing resource allocation within projects. They provide flexibility to tailor resource management to specific project requirements.
It enables businesses to efficiently allocate and manage resources, enhancing project efficiency and overall performance.
Task Management Software
Teamwork's task management software provides efficient tools for organizing and tracking tasks within projects. It offers adaptability to suit unique project needs.
Businesses can now enhance task organization and tracking, leading to improved project efficiency and productivity.
Remote Work Solutions
Teamwork's remote work solutions offer a comprehensive set of tools to support remote and distributed teams. They help in providing flexibility for businesses to adapt to remote work requirements.
You can now empower remote teams, maintain productivity, and ensure effective collaboration, making it a valuable asset for remote work success.
Innovative Product Development Solutions
Teamwork presents innovative product development solutions that empower businesses to create and launch new products effectively. The solutions offer adaptability to suit the unique needs of product development teams.
Businesses can accelerate their product development processes, foster collaboration, and bring innovative products to market efficiently, making it a cornerstone for successful product innovation.
Efficient Project Collaboration
Teamwork's project collaboration solutions provide an efficient platform for seamless teamwork and collaboration.
You can enhance teamwork, streamline project collaboration, and achieve project success efficiently, making it an essential component of collaborative work environments.
Work Management Software Excellence
Teamwork's work management software offers an excellent solution for comprehensive work management needs.
Teamwork's work management software empowers businesses to enhance work organization, optimize productivity, and drive efficiency, establishing itself as a valuable asset in achieving work management excellence.
Teamwork Features
Project Management

Robust project management tools.
Task creation, deadlines, and assignments.
Supports task dependencies.

Collaboration

Central to Teamwork's features.
Task comments, file attachments, real-time discussions.

Time Tracking

Allows time tracking on tasks and projects.
Supports accurate billing and project assessment.

File Sharing

Easy file sharing among team members.
Streamlines document management.

Gantt Charts

Visual project scheduling via Gantt charts.
Efficient project timeline planning.

Integration

Integrates with third-party apps and tools.
Enhances productivity through software connections.

Reports and Analytics

Offers reporting and analytics features.
Provides insights into project performance.

Task Templates

Simplifies project setup and task creation.
Saves time and ensures consistency.

Client Collaboration

Enables collaboration with clients.
Clients can access and provide project feedback.

Mobile Accessibility

Accessible on mobile devices.
Stay connected and updated on the go.
Pricing
Free Forever

Price: Free
Suitable For: Small teams and personal use.
Features: Basic project management features.
Limitations: Limited to 2 active projects, limited file storage.

Starter

Price: $5.99/user/month (billed annually) or $8.99/user/month (billed monthly)
Suitable For: Small teams and project starters.
Features: Basic project management features, task lists, file sharing, time tracking, and mobile access.
Limitations: Limited to 5 users, 100MB file storage.

Deliver

Price: $9.99/user/month (billed annually) or $13.99/user/month (billed monthly)
Suitable For: Growing teams.
Features: Advanced project management features, unlimited projects, 100GB file storage per user, time tracking, invoicing.

Grow

Price: $19.99/user/month (billed annually) or $25.99/user/month (billed monthly)
Suitable For: Larger teams and businesses.
Features: All Pro features, 250GB file storage per user, advanced customization options, priority customer support.

Enterprise

Price: Custom pricing based on business needs.
Suitable For: Large enterprises.
Features: All Premium features, unlimited file storage, advanced security, and compliance features, dedicated account management.
Conclusion
Keep in mind, in the world of project management, having the right tools is like having your trusted sidekicks on your journey to success.
Also, do check out these top 7 project management certifications that will help you move way ahead in your career.
Just as Peter Drucker wisely said, it's not just about doing things, but doing the right things in the right way.
So, why wait?
Let these tools in project management be your partners in your adventure.
They'll help you boost efficiency, achieve effectiveness, and bring about remarkable project results.